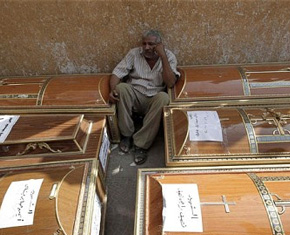 List of Islamic Terror:
Last 30 Days
This is part of the list of Islamic terror attacks maintained by TheReligionofPeace.com.

During this time period, there were 147 Islamic attacks in 25 countries, in which 1165 people were killed and 3221 injured.

(TROP does not catch all attacks. Not all attacks are immediately posted).
| Date | Country | City | Killed | Injured | Description |
| --- | --- | --- | --- | --- | --- |
| 2016.03.27 | Pakistan | Lahore | 72 | 300 | A massive suicide blast targeting Christian families celebrating Easter leaves over seventy dead, half of whom were children. |
| 2016.03.26 | Nigeria | Tumpun | 4 | 0 | Boko Haram gunmen open fire on a group of villagers, killing four. |
| 2016.03.25 | Yemen | Aden | 25 | 15 | Three al-Qaeda suicide bombings leave twenty-five dead. |
| 2016.03.25 | Iraq | Iskandariyah | 41 | 105 | Forty-one innocents are blown to bits by a Fedayeen suicide bomber at a soccer game. |
| 2016.03.24 | Scotland | Glasgow | 1 | 0 | An Ahmadi religious minority is killed by a radical Muslim after wishing Christians a Happy Easter. |
| 2016.03.23 | Syria | Foua | 2 | 3 | Ahrar al-Sham snipers pick off two civilians. |
| 2016.03.22 | Iraq | Tarmiya | 3 | 7 | A Mujahid bomb blast claims three lives. |
| 2016.03.22 | Bangladesh | Kurigram | 1 | 0 | A Christian convert is stabbed to death by Religion of Peace proponents. |
| 2016.03.22 | Belgium | Brussels | 11 | 92 | Eleven people are murdered when two suicide bombers detonate nail-packed explosives at crowded airline counters. |
| 2016.03.22 | Belgium | Brussels | 20 | 130 | A Religion of Peace suicide blast on a subway train incinerates twenty commuters. |
| 2016.03.21 | Iraq | Makhmour | 2 | 0 | Two others are taken out by a series of suicide bombers. |
| 2016.03.21 | Iraq | Anbar | 30 | 0 | A British suicide bomber is said to be responsible for a blast that kills thirty Iraqis. |
| 2016.03.21 | Yemen | Taiz | 1 | 3 | Shiite snipers fire on a group of journalists, bringing down one. |
| 2016.03.21 | Somalia | Laantu Buur | 6 | 0 | Six local soldiers are ambushed and killed by an Islamist group. |
| 2016.03.20 | Iraq | Haqlaniyah | 24 | 12 | A wave of Shahid suicide bombers kill two dozen Iraqis. |
| 2016.03.19 | Turkey | Istanbul | 4 | 39 | An ISIS suicide bomber murders four people along a city street, including two American tourists. |
| 2016.03.19 | Iraq | Mosul | 70 | 0 | A mass grave is discovered containing the remains of seventy female Yazidi victims of ISIS torture and execution. |
| 2016.03.19 | Somalia | Afmadhow | 2 | 5 | An al-Shabaab attack leaves two others dead. |
| 2016.03.19 | Egypt | al-Arish | 15 | 0 | ISIS claims to have detonated a suicide car bomb that leaves fifteen others dead. |
| 2016.03.19 | Iraq | Kirkuk | 2 | 0 | Two more children die from the effects of an ISIS mustard gas attack. |
| 2016.03.18 | Syria | Aleppo | 1 | 6 | A Sunni rocket sends a woman to the morgue. |
| 2016.03.18 | Afghanistan | Seori Tapi | 2 | 1 | A Taliban landmine takes out two people, including a child. |
| 2016.03.18 | Syria | Aleppo | 2 | 3 | Two children, a boy and a girl, are reduced to pulp by a series of Sunni rockets on their neighborhood. |
| 2016.03.18 | Iraq | Mosul | 1 | 0 | A gentleman's head is removed by the Islamic State. |
| 2016.03.17 | Iraq | Fallujah | 6 | 0 | Six men are executed in barbaric fashion by the Islamic State, including one whose head is blown off with explosives. |
| 2016.03.17 | Pakistan | Smagal | 4 | 0 | A woman and her child are among four souls obliterated by a suicide bomber. |
| 2016.03.17 | Niger | Dolbel | 3 | 3 | Three guards at a market are shot to death point blank by Jihadis. |
| 2016.03.17 | Niger | Diffa | 1 | 2 | Four suicide bombers manage to kill one other person. |
| 2016.03.17 | Philippines | Sarangani | 1 | 0 | A 43-year-old man is beheaded by a pro-caliphate group. |
| 2016.03.17 | Egypt | Rafah | 5 | 10 | Five are killed when religious extremists attack a local military base. |
| 2016.03.17 | Iraq | Hamidat | 1 | 0 | Radicals put a rival imam against a wall and shoot him to death. |
| 2016.03.17 | Thailand | Pattani | 1 | 0 | A 53-year-old guard at a school is shot to death by Muslim militants. |
| 2016.03.16 | Pakistan | Peshawar | 15 | 30 | Fifteen people are torn to shreds when Jihadis bomb a bus carrying commuters. |
| 2016.03.16 | Nigeria | Maiduguri | 18 | 35 | Two female suicide bombers slaughter two dozen worshippers at a rival mosque. |
| 2016.03.15 | Iraq | Qwar | 9 | 17 | An ISIS chlorine gas attack kills nine Kurds. |
| 2016.03.15 | Afghanistan | Hajiabad | 4 | 0 | Women and children are among four civilians exterminated by Taliban bombers. |
| 2016.03.15 | Thailand | Pattani | 1 | 0 | Suspected terrorists shoot a young woman twice in the head at a market. |
| 2016.03.15 | Philippines | Patikul | 2 | 0 | Abu Sayyaf members ambush and kill two local soldiers. |
| 2016.03.15 | Afghanistan | Laghman | 1 | 1 | Sharia state proponents ambush and kill an off-duty police officer. |
| 2016.03.14 | Afghanistan | Kandahar | 1 | 0 | A woman is shot to death by the Taliban. |
| 2016.03.14 | Nigeria | Chul | 3 | 7 | Three civilians are taken out by a Boko Haram bomb blast. |
| 2016.03.14 | Nigeria | Huyum | 1 | 1 | Islamic gunmen kill a woman and shoot a child in the leg. |
| 2016.03.14 | Iraq | Zankurah | 22 | 16 | Twenty-two Iraqis are killed during an assault by the Islamic State. |
| 2016.03.14 | Canada | Toronto, ON | 0 | 2 | A man stabs two soldiers at a recruiting center, saying that he was just following Allah's instructions. |
| 2016.03.14 | Syria | Busayrah | 1 | 0 | A young man is shot in the head for 'mocking religion'. |
| 2016.03.14 | Bangladesh | Jhenaidah | 1 | 0 | Radical Muslims assassinate a 'polytheist apostate' (ie Shia cleric). |
| 2016.03.14 | Iraq | Ramadi | 25 | 20 | ISIS suicide bombers massacre over two dozen in attacks on two villages. |
| 2016.03.14 | Iraq | Mosul | 6 | 0 | Six young people are rounded up and executed by the caliphate. |
| 2016.03.14 | Egypt | al-Arish | 2 | 0 | Two Egyptians are picked off by fundamentalist snipers. |
| 2016.03.13 | Iraq | Tal Kasab | 8 | 22 | Suicide bomb attacks leave eight dead. |
| 2016.03.13 | Iraq | Sinjar | 7 | 11 | ISIS pour shells into a Yazidi village, killing seven residents. |
| 2016.03.13 | Afghanistan | Yengi Qala | 2 | 0 | A young couple is murdered over suspected sexual activity. |
| 2016.03.13 | Ivory Coast | Bassam | 18 | 17 | al-Qaeda gunmen assault a hotel and murder anyone refusing to praise Allah with them. The eighteen killed include a 5-year-old Christian who was cut down while praying. |
| 2016.03.12 | Iraq | Mahmoudiyah | 2 | 7 | Mujahid bombers kill two patrons at a market. |
| 2016.03.12 | Iraq | Munsiyah | 7 | 0 | Three women are among seven people murdered in their home by sectarian militia. |
| 2016.03.12 | Afghanistan | Khanashin | 1 | 3 | A child is disassembled by Taliban bombers. |
| 2016.03.11 | Ingushetia | Nazran | 0 | 4 | 'Problems in the religious sphere' result in a car bomb blast outside a mosque. |
| 2016.03.11 | Pakistan | Kohistan | 2 | 0 | A couple is shot to death for 'illicit relations'. |
| 2016.03.11 | Iraq | Sheikhan | 11 | 2 | Two ISIS rockets claim the lives of eleven Iraqis. |
| 2016.03.11 | Iraq | Sinjar | 5 | 3 | Five Kurds are laid out by a Shahid suicide bomber. |
| 2016.03.10 | Nigeria | Tarka | 3 | 0 | Fulani mercenaries kill three villagers and burn their homes. |